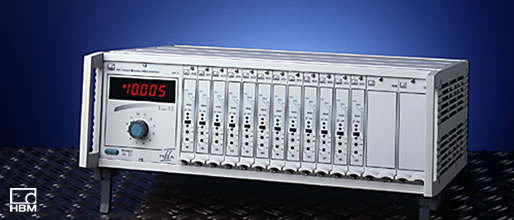 MGA II
MGA II modules
DA12: Digital indicator with 4 1/2 digit LED display complete with differential input. Designed as a digital voltmeter for displaying output voltage, switchable over 12 channels, with controllable decimal point and overflow LED.
ME10, DC: DC voltage amplifier for high frequency measurement processes, for connection to strain gauge transducers. With a maximum measurement frequency of 10kHz and a very short settling time, the ME10 is particularly suitable for dynamic measurement processes, such as in the case of rapid variations in forces during punching or press-fit tasks.
ME30, 600 Hz TF: An amplifier for use with strain gauge transducers during low-frequency measurement processes. Its good zero-point stability enables it to be used in static and quasistatic measurement processes such as e. g. weighing and dosimetry, or the measurement of forces and pressures in industrial test rigs.
ME50, 4.8 kHz TF: An amplifier for transducers with inductive half bridges, such as the HBM range of displacement transducers. The ME50 can be used for static and dynamic measurement processes, such as long-duration monitoring in construction measurement technology.
ME50S6, 4.8 kHz TF: Amplifier for strain gauge transducers. Like the ME50 (for inductive half bridges), the ME50S6 is suitable for such applications as force vs. displacement measurements.
EM001: This optional, connection-board mounted final stage module is switchable between a current output of ± 20mA or +4 to +20mA, and a voltage output of ± 10V (R > 500Ohm).
AP01: Standard connection board for transducer connection using Sub-D connectors.
AP03: Connection board for transducer connection using 7-pin MS connectors.
AP11: Connection board for transducer connections using Lemo sockets.
Housing: Depending on the application, there is a choice between desktop housings for 2, 6 or 12 channels and a rack frame with capacity for 12 channels.