FASTpress Suite
FASTpress Suite – powered by HBM Industrial Software
The star in the HBM Industrial Software range: "FASTpress Suite", ideal in combination with the industrial amplifier MP85A FASTpress and MP85A-S EASYswitch.
FASTpress Suite is a complete software package for your process control.
Visualization, evaluation, further processing: FASTpress Suite offers you exactly the performance that you require for your process control.
PME Assistant: For simple setup and reliable monitoring of 生产系统Production systems.
Add-on modules: With extra tools for automatic optimization of your evaluation criteria, for statistical process control and for simplified user administration.
Programming tool: The solution for system integrators – with a programming tool for individual customization of the operating and control software.
Can be integrated into existing systems: Measurement electronics or software: Products and solutions from HBM can be integrated into existing systems without difficulty, for example, software interfaces to PLC systems.
Always in the picture about your production: You want to access the actual key data of your production line at any time? Regardless of where you are: HBM Industrial Software is also available for mobile end units such as handheld computers.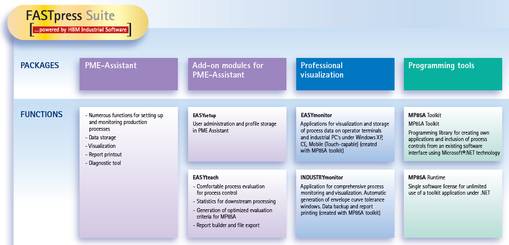 Request a quote!Get a quote for FASTpress Suite without obligation.
Get a quote now!
HBM ONLINE SHOP