Precise test results and hygienic design
Manufacturing processes in today's food production are characterized by a high degree of automation. There are special requirements for both accuracy of test equipment andmaterial and hygiene.

Are you looking for classical load cells made from stainless steel? Or high-end solutionsfrom stainless steel coming as aseptic versions with integrated, encapsulated overload stop? We provide you with the right solution for your application, from sensor to software:
Aseptic load cells ... for hygienic production
HBM has set milestones in the hygienic design of test and measurement products: PW27has been the first load cell to be certified per EHEDG (European Hygienic Engineering Design Group). PW25 and PW27 load cells offer hygienic design, i.e. they have no corners or edges, and are ideal for integration in production processes that have to meet increased hygiene requirements or even in aseptic systems. Benefit from shorter cleaning time and reduced downtime - to make your production more efficient!
Single point load cells … for scale manufacturers
Reliable, precise and rugged - leading scale manufacturers throughout the world use HBM single point load cells. Benefit from the advantages provided by our single point load cells, for example:
Fast mounting through off-center load compensation at the factory
High weighing speed thanks to high natural frequency
Rapid planning based on test certificates at hand
Bending beam load cells .. for reliable food production
Whether in process or tank weighing - HBM bending beam load cells are genuine all-rounders. Many models are available with German National Metrology Institute (PTB)approvals for installation in legal-for-trade scales. When using our bending beam load cells you can place your trust in reliable weighing results - for dependable food production.
Digital load cells .. for dynamic weighing processes
Digital load cells are especially suitable for dynamic applications, for example, as components in scales for assorting, checking or filling. The digital load cells ideally adapt to the production process thanks to their integrated electronics.

Reliable, durable and rugged - digital FIT® load cells were developed particularly for dynamic applications. They are outstanding for maximum throughput and at the same time offer high accuracy.
Load cells with IP69K protection ... well protected against humidity
When used in applications involving permanent exposure to humidity, load cells need to be protected against the ingress of water - particularly when steam cleaners are used for cleaning. The load cells listed below are available with IP69K protection and are optimally suited for such applications: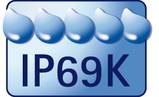 'Aseptic Weighing' portal
Shorter cleaning time, reduced down time - make your production more efficient.